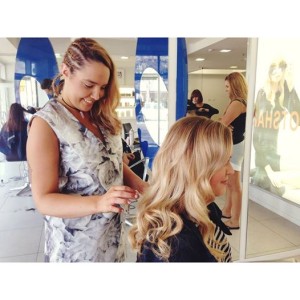 Anyone who has ever attempted growing out a fringe will tell you that it can be a slow and agonising process, that takes a lot of patience and bobby pins. If you've started your fringe-growing journey, we're here to tell you that there is a light at the end of the tunnel. In the mean time, we're offering our support with some tips to make the growing period as painless as possible.
1. Keep the rest of your hair looking fantastic to divert attention from that awkward growing stage. As you let your fringe grow out, make sure that the rest of your hair is well cut, flawlessly coloured and perfectly styled. This will take the focus off your fringe and leave you looking polished overall.
2. Even though it might seem counter-intuitive to trim your fringe while you're growing it, allow your stylist to undertake minor trims to ensure that your fringe blends seamlessly with the rest of your hair and doesn't start to look straggly. Taking it slow will ensure that your hair still looks neat and tidy.
3. Focus on your overall hair health. Trim split ends, indulge in nourishing restorative treatments and use a clarifying shampoo once every 1-2 weeks to promote a healthy scalp. Keeping your hair in optimum condition encourages growth, which can make a huge difference in the long term.
4.  If you're not keen on pinning your hair back in a pony-tail day after day, ask your hairdresser for styling advice. Your stylist can show you different ways to wear your hair and give you some tips to get through the growing period without getting bored.
5. Once your fringe is long enough, choose a part. Wearing your fringe to one side is an easy way to disguise the growing out process – just keep unruly strands in place with a weighted hair spray. When choosing your parting, remember that side parts work best on those with oval, long and narrow faces; opt for a centre part if your face is square or round; or a slightly off-venter part if your face is heart or triangle shaped. Your stylist can offer advice if you 're unsure what will work best for you.