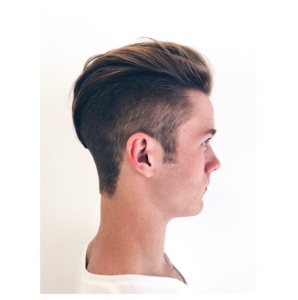 Gone are the days when men pretended not to care about their hair. A large percentage of our clients at Yots Hair are males, who treat their haircut as a signature. Our stylists know that a great haircut adds a finishing, polished touch to any look, and have shared their top five tips for guys who love their hair.
COMMUNICATE 
Knowing what you want, and communicating it properly to your hairdresser is a vital step. Whether you are meeting your stylist for the first time, or you've decided that it's time for a change, a picture is definitely worth 1000 words. Your stylist is not a psychic – avoid miscommunication by ripping a photo out of a magazine, or screen-shotting a picture on your smartphone. Providing a visual example of the look you want will help to ensure that you are happy with the final result.
BE REALISTIC 
Sometimes, the haircut that you want and the haircut that can be achieved are two very different things! You might have your heart set on one look – but ultimately your hair type, condition and face shape may dictate an entirely different result. Ask your stylist for their opinion before getting started, and take on board their response.
KEEP IT CONSISTENT 
A great haircut is a personal statement – it should suit your personality and compliment your lifestyle and overall aesthetic. Whether you prefer a quiff or a buzz-cut, remember that your haircut speaks volumes about you as an individual. If you're a conservative type, stick to a classic style. If you see yourself as more of a trendsetter, ask your stylist about the latest runway trends. Your haircut is one of the first things people notice about you, so think about what you're trying to say before stepping into the salon!
THE OVERALL PICTURE 
If necessary, remember to communicate to your stylist how you like to style your sideburns or facial hair. These may seem like small details, but they add the finishing touches to your look.
LEARN TO LOVE PRODUCTS 
To make sure your hair looks fantastic in between salon visits, have a chat to your stylist about styling tips, and product recommendations. Using the right shampoo or styling product can drastically change the way your hair looks and keep your cut looking neat. If you're dedicated to your haircut, embrace brushes, blowdryers, and even hot tools – chances are, your stylist would love to show you how to use them.